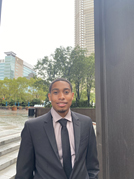 by Joshua Boulanger
Now in the back end of the COVID-19 pandemic, it seems we are in a new normal from our lifestyles before the outbreak. This is the perfect time to start planning new goals and objectives to be prepared for the next chapter- life after the pandemic.
When planning your goals, it is essential to create an action plan, and even more important for it to be as specific as possible. The action plan gives you purpose that allows you to aim your focus at achieving your goals. The whole point of planning is to set yourself up to be prepared and meet smaller goals, which I like to call targets. Targets are the steps it takes to accomplish the big goal. It helps keep you on track and within the timeline of attaining your goal.
Creating a timeline is a significant part of the planning process. It helps with visualizing tasks, roles, and milestones to complete before your deadline. Setting dates beforehand is crucial as it keeps the sense of urgency and the fire of motivation to stay on schedule. For a free timeline maker click here.
When setting goals, follow the SMART method (Specific, Measurable, Attainable, Realistic, and Time) to clearly track and comprehend your progress to achieving your goals. Using these five tools will change the way you set goals and increase your outcome for completing your goal.
The biggest step in setting goals is to take action. Once your plan is created the most important part of the whole process is to start and to stay consistent.