"Diversity, Equity & Inclusion for Dummies"
Dr. Shirley Davis
(Wiley)
The global workforce and marketplace will continue to undergo dramatic demographic shifts—redefining the workplace, the workers, and how work gets done. Organizations that want to attract and retain the best talent and to capitalize on the full breath of their perspectives and experiences must first reflect our society as a whole, and secondly, must create the right kind of work environment where ALL talent can thrive. That means valuing diversity, creating more equitable policies and practices, and fostering a welcoming and inclusive culture.
In "Diversity, Equity & Inclusion For Dummies," global workforce expert, Dr. Shirley Davis unveils her extensive collection of real-world experiences, stories, case studies, checklists, assessments, tips, and strategies – all designed to give readers a deeper understanding of the business impact of DEI and how leaders can contribute to their companies' long-term success.
Among the topics the book covers:
The fundamentals of DEI and how it drives business performance and impact
How to conduct comprehensive DEI organizational assessments to identify systemic and institutional inequities
Tactics and strategies for having necessary but difficult conversations, and how to make them impactful
Skills and competencies that every leader needs in order to effectively lead the new generation of workers
How to operationalize DEI across your organization, measure its impact, and sustain it long term.
Shirley Davis, PhD, is a seasoned HR and Diversity & Inclusion thought leader, a certified leadership coach, and veteran executive. She has been featured on NBC's Today, USA Today, National Public Radio, the Wall Street Journal, Essence magazine, Fast Company, the Washington Post, and more.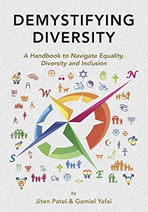 "Demystifying Diversity: A Handbook to Navigate Equality, Diversity and Inclusion"
Jiten Patel & Gamiel Yafai
(Gilgamesh Publishing)
"Demystifying Diversity" is aimed at anyone with a line management responsibility at any level of management, business professionals and HR practitioners.
Here's what critics are saying about it:"Fearless and illuminating, Demystifying Diversity penetrates one of the most pressing issues of our day, and shines a spotlight on the taboos we often shy away from."
— Jeremy Massey author of The Last Four Days of Paddy Buckley
"This is a great read for anyone … in the world of diversity … Gets you thinking about how you can make things happen in your organisation."
— Kate Nash, Kate Nash Associates
"…an accessible, engaging and thoughtful book which addresses a range of potentially complex and contentious subjects in a quite unique way." — Paul Deemer, Head of Equality, Diversity and Human Rights, NHS Employers
Having headed up the diversity practices of two of the UK's largest Recruitment Resourcing Agencies, Gamiel Yafai is now Managing Director of a highly successful diversity consultancy, supporting a broad portfolio of clients including some major UK and European organizations move from 'policy to practice', utilizing a large portfolio of traditionally 'hard to reach' minority communities. He is currently chair of a number of charities and widely promotes the benefits of volunteering as a means of developing leadership competencies.
An accomplished diversity and inclusion strategist, with strong experience of Public, Private, Education and Third Sectors, Jiten Patel is Managing Director of a successful diversity consultancy, and has headed diversity and inclusion at two international organisations. Recent awards include Diversity Champion of the Education Sector 2015, at the prestigious Excellence in Diversity Awards. Jiten is a skilled trainer and facilitator, often working in complex environments. Volunteer activity includes chairing and board roles of a range of charities and steering groups.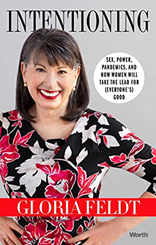 "Intentioning: Sex, Power, Pandemics, and How Women Will Take The Lead for (Everyone's) Good"
Gloria Feldt
(Worth Books)
In "Intentioning: Sex, Power, Pandemics, and How Women Will Take The Lead for (Everyone's) Good," Gloria Feldt inspires diverse women to embrace their personal power to lead with intention, confidence, and joy. It comes as no surprise to her that women flexed their formidable muscles when needed most, representing a disproportionate number of essential workers during the darkest days of the coronavirus global outbreak and leading the charge against racism in the United States. But this book is decidedly about the future, taking the leadership lessons learned from this disruption and creating a better world for all.
Feldt not only unveils the next step in advancing gender parity in all spheres of business and life, but she also lays out the vital next steps in the overall advancement of our economy and our civilization. The "Lead Like a Woman" framework and the "9 Leadership Intentioning Tools" she presents in this book will prepare, motivate, and propel women of all diversities and intersectionalities now so that by 2025, women will have attained their fair and equal share of leadership positions across all sectors of industry and society. We simply cannot squander women's talents when so much hangs in the balance. Women must be at the vanguard of reimagining and reconstructing a vibrant and sustainable future for us all.
Feldt is a New York Times best-selling author, speaker, commentator, international leadership expert and CEO.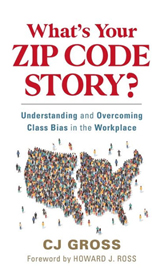 "What's Your Zip Code Story? Understanding and Overcoming Class Bias in the Workplace"
Christopher CJ Gross
(Rowman & Littlefield)
Shedding light on class division, this book offers solutions to class bias in the workplace by analyzing real experiences, social norms, education, wealth, and more.
The renewed focus on class, race and equality in the workplace and beyond is making an indelible mark on society. This clarion call for change is sweeping inequality from every corner of the nation, including law enforcement, schools, and businesses. And within the past five years, diversity and inclusion, as well as unconscious bias, have been the main drivers of organizational training, politics, and community engagement.
What's Your Zip Code Story helps clarify the intersection of class bias and racial disparity in the workplace and arms organizations with the knowledge to not only have productive discussions, but also adopt effective solutions. Gross instructs class-migrants—whether college students, recent graduates, or overlooked employees—on how to climb the career lattice and transform themselves from undervalued employees to respected leaders. The book tackles challenges that class-migrants encounter when navigating the workplace and provides operative practices that can be utilized to hone new professional skills and drive positive change in workplace culture. It is a powerful tool that will inspire marginalized employees who are hungry for personal and professional growth, as well as give insight to business leaders seeking a new way to engage their teams. Through the lived experiences of the author and research-based strategies, readers will find insights on how to increase workplace engagement and business performance.
Christopher Gross is a diversity and inclusion consultant, coach and trainer and international speaker.