Having already made waves on BET's currently #1 ranked new scripted series "The Oval" with dual roles, breakout star Melissa L. Williams, who has quickly become Tyler Perry's new muse, is now set to lead Perry's spin-off series "Ruthless," as the title character Ruth Truesdale on BET's new streaming platform, BET Plus, out now. We would love to arrange a fun and inspiring interview with you and Melissa to discuss her roles in both series, working with Tyler Perry and her career overall. Melissa is also available discuss the current COVID-19 climate and what she is doing to help those in need and her fans, as recently seen in her PEOPLE.COM exclusive. 
"The Oval" tells the story of a family placed in the White House by people of power while also highlighting the personal side and everyday lives of the staff who run the inner workings of the nation's most iconic residence. On the new hit series, Melissa portrays twin sisters 'Denise' and 'Ruth,' polar opposite roles, both with their own agenda.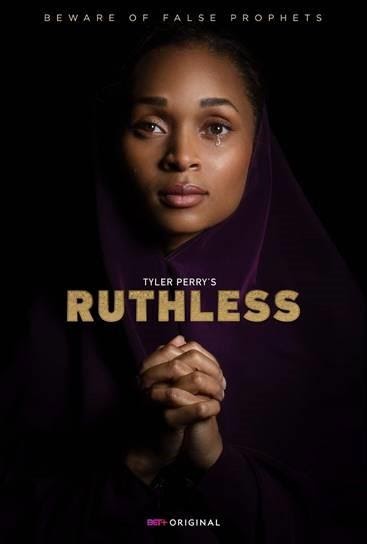 Perry's spin-off series "Ruthless" follows Ruth Truesdale as she's forced to play nice with a scandalous religious cult of powerful sex crazed fanatics in the hopes of freeing herself and her daughter. Williams stars opposite Stephanie Charles ("The Paynes"), Anthony Bless ("Tyler Perry's Sistas") and Bobbi Baker James ("House of Payne").
Melissa grew up in Oklahoma City as the oldest of six and utilized her family holiday gatherings to put together and star in her own talent shows. A natural performer from an early age, she set out to do as much local theater as she could find in Oklahoma City, eventually heading to Clark University in Atlanta for college to study theater. Williams joined the CAU Players, the University's drama club, which puts on various productions yearly ranging from classical works, musical works, children's productions, and one-act play festivals. Melissa starred as Carmen in F.A.M.E. during her time in the CAU Players. Even after finishing her degree, she went to get additional technical training so that he could produce projects herself and applied it to several music videos she produced when she moved to LA.
Williams is a true breakout star, landing her first series regular role on "Ruthless" and taking the town by storm, with plans to also produce and star in her own future projects. When she's not acting or behind the camera, Williams is usually in Los Angeles with her new French bulldog, Ray, taking a spin class or working with the Young Storytellers.