Insights From Pam:
SkiNy of Diversity Recruiting: Best Practice Trends in Recruiting Strategies
Chapter 9: out and equal: LGBTQ plus pronoun
One of the realities in the workplace is that companies have a very challenging job to capture the gay community within their workforce. On average, less than one percent of the LGBTQ Plus Pronoun community in the workforce is identified.
Seventy-three percent of companies from the 2019 ILI have intentional strategies in place to recruit from LGBTQ Plus Pronoun organizations. Interestingly, on average 13-15 percent of companies have been focused on intentional recruiting in each year grouping. Twenty-three percent of companies are just starting to target this group. Only seven percent of companies have been targeting this group for between seven to 10 years, and it is primarily a new focus for most companies.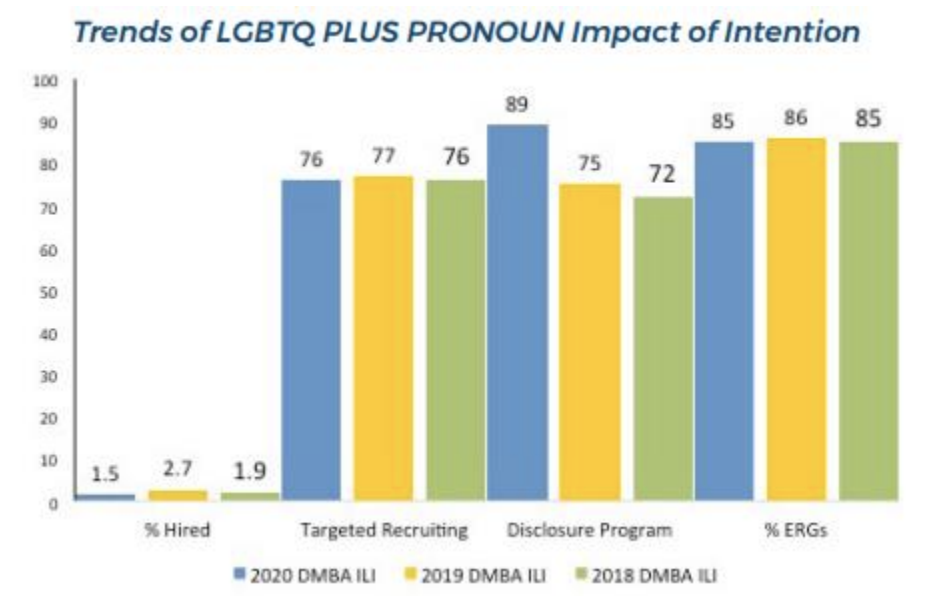 Illustration: Interestingly, I see a correlating increase in the hiring percentages as the pride employee resource groups grow. This correlation also extends to the targeted recruiting efforts and internal efforts of self-identification and disclosure initiatives.
For a deeper dive, visit pamelamcelvane.com to get your copy of the SkiNy on Diversity Recruiting (Chapter 9)
Also available on Amazon.com