Gearing up for the release of his highly anticipated new single "God Loves Me Too," we would love to arrange an interview with you and the talented actor, singer and life coach Brian Falduto. Best known for his character 'Billy' with the iconic "You're tacky and I hate you" line in the hit film SCHOOL OF ROCK, Brian is now ready to share his message of positivity and acceptance for all. The passionate LGBTQIA+ member is also free to discuss his successful business and career as a certified I.C.F. Life Coach, as well as his overcall career in the entertainment industry including film television, theatre, and singing.
Brian's upcoming country release "God Loves Me Too" is an inspirational uplifting song that speaks to the hearts of all people regardless of religion, sexual orientation, gender identity, and ethnicity. Brian wrote this song last winter after several visits to the Hollywood United Methodist Church, which is widely known for its' beautifully inclusive community. He would leave the church services knowing he belonged and was accepted, but then would be hit with the hard reality that many other LGBTQIA+ community members would not be met with the same acceptance or love in other parts of the country and world. This song contains a very important message for them that we do not have to earn love and acceptance, we simply have to exist. Named "One of the 20 Most Influential, Outspoken and Optimistic" by PrideLife Magazine for his work as a gay country music artist and a strong member and advocate for the LGBTQIA+ community, Brian is ready to represent the community as the country artist on the rise in 2020.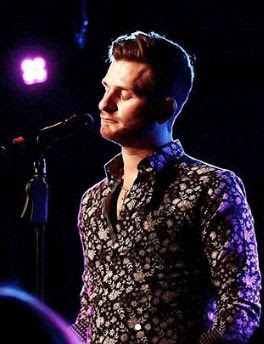 Along with his acting and music career, Brian is also an entrepreneur and successful businessman as a certified I.C.F. Life Coach with his company The Gay Life Coach. Using every aspect of what he does to encourage other people to love themselves and share their stories, Brian helps his clients live themselves with a love that is inclusive of all aspects of their story. Drawing on experiences from his own life and bettering himself, Brian for the longest time didn't think happiness was an option for him. Once he accepted the fact that he is worthy of presenting his authentic self to the world, his life changed.
Brian broke into the entertainment industry at the young age of 11-years-old, booking his first big film alongside Jack Black, Joan Cusack, Sarah Silverman, and Miranda Cosgrove in SCHOOL OF ROCK. Stealing the film with the heavily repeated and culturally iconic line "You're tacky, and I hate you," Brian would then go on to lead a "normal" childhood while continuing to pursue his love of the arts and entertainment. Once he graduated high school, Brian would go on to university at Wagner College where he earned a dual degree in Theatre Performance and Arts Administration. While Brian was in college, he was wrongfully forced to come out of the closet because of online bullying. He had already planned on coming out with his then boyfriend but was made to against his will and has since incorporated that experience into his professional life as a life coach.

We would absolutely love to arrange an interview with you and the truly multi-faceted musician, entertainer and life coach to discuss all of his upcoming and current projects, including his new music, his business, as well as his career overall, and can be reached at AGPR@AndersonGroupPR.com or at 323-655-1008 to arrange.