Cuban-American actress, writer, all-around funny girl, and 2019 Teen Choice Award-nominee Jessica Marie Garcia is ready for a killer 2020 with the return of her highly anticipated NETFLIX original series ON MY BLOCK (Season 3 IS CURRENTLY TRENDING AS #1 DRAMA SERIES ON NETFLIX!!!) and the premiere of the Gina Rodriguez-produced Disney+ series DIARY OF A FUTURE PRESIDENT (premiered Jan 17th). Jessica Marie is also well known for co-starring in all four seasons of the hit Disney Channel Original series LIV AND MADDIE opposite Dove Cameron as 'Willow Cruz.' @Jess_M_Garcia (1.3 MILLION followers on Insta). We are including her full pitch below and would love to set up an interview with you and her to promote the new season!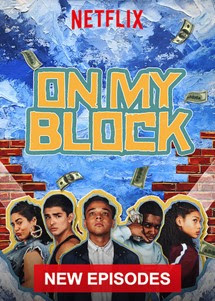 ON MY BLOCK Season 3 Trailer HERE.
Jessica Marie stars as breakout comic relief 'Jasmine' in
 NETFLIX's hit coming-of-age series ON MY BLOCK, a role that also earned her an MTV Movie & TV Award nomination. The series, which earned the title of "Most Binged Show of any Netflix Original in 2018", follows a group of bright and street-savvy friends navigating their way through the triumph, pain and the newness of high school in LA's South Central. Garcia stars as 'Jasmine' who's confident, full of enthusiasm and swagger and never afraid to share her opinion. She embraces who she is and likes the skin she's in – even if some of her peers consider her the 'Felicia' of the group. The Season 2 finale left an intense cliffhanger when the group are kidnapped and thrown into the back of a van. The series is co-created, and executive produced by Lauren Iungerich (who also created the MTV teen series AWKWARD), Eddie Gonzalez, and Jeremy Haft – the latter two of which wrote the film ALL EYEZ ON ME. The show co-stars Sierra Capri as 'Monse,' Jason Genao as 'Ruby,' Brett Gray as 'Jamal,' and Diego Tinoco as 'Cesar.' Season 3 just premiered on March 11th, 2020.
Jessica Marie is also set to co-star in the Disney+ series DIARY OF A FUTURE PRESIDENT, a 10-episode weekly series which premieres on Friday, January 17th. Written and inspired by show creator Ilana Peña's childhood, the series is told through the narration of a 12-year-old Cuban American girl's diary as she navigates the ups and downs of middle school and her journey to becoming the future president of the United States. Gina Rodriguez (JANE THE VIRGIN) co-stars, directs, and serves as executive producer. The series will be released weekly on Disney+, being distributed ever Friday starting January 17th.
Additionally, Jessica Marie is well known for her co-starring role in the Disney channel hit series LIV AND MADDIE which follows identical twin sisters (both played by Dove Cameron) 'Liv', a popular television star whose hit show has just finished its run, and 'Maddie', an outstanding student and school basketball phenomenon whose popularity is on the rise, that is until Liv makes a triumphant return to their Wisconsin high school and complicating their teenage life even more is that their parents both work at their school. Garcia played 'Willow Cruz' – Maddie's best friend and basketball teammate on the hit series, who also eventually dates the twin's younger brother.
Originally from Orlando, Florida, Jessica Marie got her first big break when she landed a role on the on the ABC Family series HUGE playing 'Sierra Cruz.' She is also a member of the all-female ensemble cast of BETCH: A Sketch Show, now streaming in HULU. She has also guest starred / recurred on such acclaimed series as ABC's THE MIDDLE and HOW TO GET AWAY WITH MURDER, Amazon's GOLIATH, and HULU's CASUAL. Jessica Marie Garcia has 1.4 million followers on her socials: Instagram (@Jess_M_Garcia) and Twitter (@JessMarieGarcia).