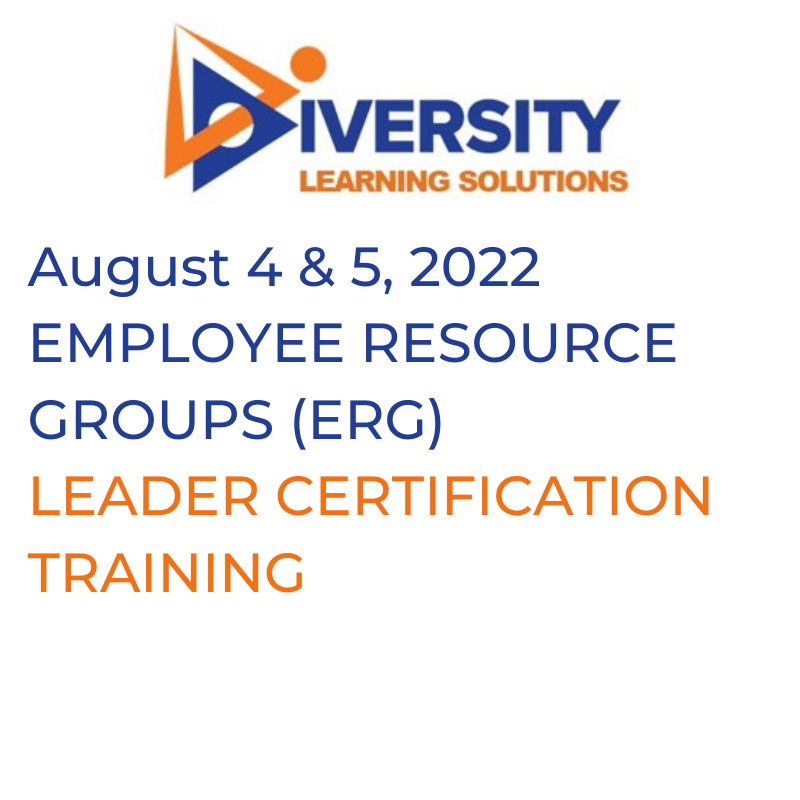 Employee Resource Group (ERG) Leadership Certification – August 4 & 5, 2022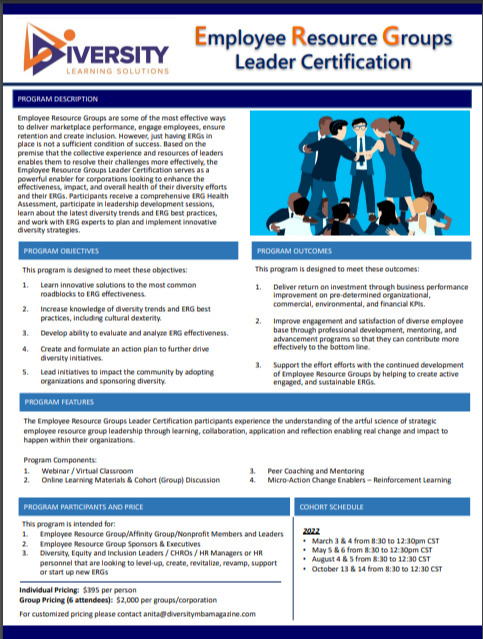 Employee Resource Group (ERG) Leader Certification participants gain an understanding of strategic leadership of ERGs through learning, collaboration, application and reflection enabling real change and impact to happen within their organizations.
Intended For:
Employee Resource Group/Affinity Group/Nonprofit Members and Leaders
Employee Resource Group Sponsors & Executives
Diversity, Equity and Inclusion Leaders / CHROs / HR Managers or HR personnel that are looking to level-up, create, revitalize, revamp, support or start up new ERGs
Cohort Schedule:
March 3 & 4, 2022 from 8:30 to 12:30pm CST
May 5 & 6, 2022 from 8:30 to 12:30pm CST
August 4 & 5, 2022 from 8:30 to 12:30pm CST
October 13 & 14, 2022 from 8:30 to 12:30pm CST
Program Objectives:
Learn innovative solutions to the most common roadblocks to ERG effectiveness.
Increase knowledge of diversity trends and ERG best practices including cultural dexterity.
Develop ability to evaluate and analyze ERG effectiveness.
Create and formulate an action plan to further drive diversity initiatives.
Lead initiatives to impact the community by adopting organizations and sponsoring diversity.
Program Outcomes:
Deliver return on investment through business performance improvement on pre-determined organizational, commercial, environmental, and financial KPIs.
Improve engagement and satisfaction of diverse employee base through professional development, mentoring, and advancement programs so that they can contribute more effectively to the bottom line.
Support the effort with continued development of Employee Resource Groups by helping to create active engaged and sustainable ERGs.
Program Features:
Virtual Classroom
Online Learning Materials & Cohort (Group Discussions)
Peer-to-peer Coaching and Mentoring
Micro-Action Change Enablers / Reinforcement Learning
Program Pricing:
Individual Pricing: $395 per person
Group Pricing: $2,000 per group of six (6)