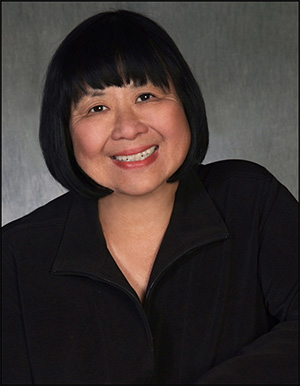 Sue Gin, founder/CEO of Flying Food Group (FFG), knows what it's like to have a dream and make it a reality. Her company, which in 2009 produced revenues exceeding $300 million, is the fourth largest woman-owned business in Chicago. In 2010, FFG was named National Minority Global Supplier Distributor of the Year by the U.S. Department of Commerce Minority Business Development Agency.  Not bad for a woman who got her start when she was served a half-frozen sweet roll on a breakfast flight and decided she could do it better.
FFG Airline Catering produces innovative and cost-effective cuisine for over 60 airline customers, primarily long-haul carriers, including Air France, Air India, ANA, Lufthansa, British Airways, China Airlines, JAL and Singapore Airlines. It has 17 branches nationwide and one in Shanghai, China.  Together, they produce over 200,000 meals a day with an emphasis on quality and nutrition.  FFG executive chefs try to please every palate with a wide assortment of cuisines — American, Chinese, French, German, Halal, Italian, Indian, Japanese, Korean, Malaysian, Thai, and Turkish.
In addition to the airline business, FFG launched Fresh Food Solutions in 1996, which provides private-label packaged foods to retail partners in grocery, food service, and specialty markets. Among the expanding list of its current partners are Starbucks, Fasmima!, Aramark, HMS Host, JFC, RaceTrack, Pepito's Cuban café, and 7-11.  Products include entrees, fresh sandwiches, wraps, salads, side dishes, desserts and parfaits, and all foods are USDA-certified.
Then To Now In A Nutshell
Beginning with a single domestic carrier out of Midway Airport in 1983, other larger carriers showed interest in FFG and Gin expanded to O'Hare International Airport.  At that point, the French catering arm, Servair, became her partner. Today, Servair has joined with FFG in the newly constructed Flying Food Servair JFK, a $30 million state-of-the-art airline catering facility at New York's JFK Airport.
According to Gin, the biggest challenge is "success building on success and trying to integrate people in a growing organization. Sometimes being successful isn't the best thing that can happen to you. It takes time for everything to come together."
FFG employs 3,200 people worldwide and Gin holds each of them in warm regard. "Both the hourly employees who have built their lifestyle around their jobs, and those who have grown into managerial positions [are special]," she says. "The whole progression is extremely rewarding."
American Success Story
The youngest child of two Chinese immigrants, Gin learned about food and customer service in her parent's restaurant. When she was 10, her father passed away suddenly and her 19-year-old brother took the helm. Gin worked after school and on weekends.
After graduating from high school, Gin attended Aurora College (now Aurora University, where she was awarded an honorary Doctorate of Humane Letters this May) for a semester before she moved to Chicago to attend DePaul University. Her education was interrupted by an illness and she left DePaul to earn money to pay for medical expenses. Her first success was in real estate, where she founded New Management Ltd., a real estate sales, leasing, management, and development firm. She also invested in restaurants and a wholesale bakery. 
Philanthropic Endeavors
For all of Gin's business accomplishments, she has a keen sense of giving back and is on numerous boards. These include Excelon, Commonwealth Edison Co., DePaul University, the Field Museum, Rush University Medical Center, Chicago Botanic Gardens, Prostate Cancer Foundation, Chicago Community Trust, Foundation for the National Archives in Washington, D.C., and Servair, where she is, incidentally, the first non-French citizen board member and one of the first women. She also heads the board of the William G. McGowan Charitable Fund, Inc., honoring her late husband, who was the founder of MCI.
Additionally, Gin is president of the Sue Ling Gin Charitable Fund. "It's a not-for-profit vehicle which I use to fund grants to the community," she explains. "We recently went into one of the toughest neighborhoods of Chicago, where there was a 50% or greater drop-out rate in a particular charter school. We provided subsidies to the school and scholarships to many of the graduating seniors. As a result, we were able to turn that high drop-out rate around and, this year, 95% of their class will be graduating."
Diversity Benefits
As to whether the issue of diversity has been a help or a hindrance in achieving her goals, Gin notes," I don't remember when it's been a hindrance. I do remember when it's been a help. It sets you apart from others. On interviews and sales appointments and the like, I think clients listen a little closer sometimes. It really, truly has worked that way for me."
As to what advice she can give upcoming minority entrepreneurs, Gin is very clear: "Often I'm told, after I've given a speech, 'I had that idea before you did.' And I think to myself, it's not good enough to just have an idea. You have to act on it and take the risks to do those things you feel strongly about. Only those who act reap success.  Do your research, believe in your idea, then go ahead and do it."
Adhering to her beliefs, and with focus and determination, Gin has made her own ideas a reality.  "Our next step is to continue to grow in Fresh Food Solutions, the newest part of our company," she says. "And we will strengthen our efforts with in-flight catering and our retail business."
Merrill Furman is a freelance journalist and author in the Philadelphia area. She holds a MSEd from the University of Pennsylvania and has taught English at the secondary and college levels.
Image of Sue Gin courtesy of Blue Buddha Boutique
Other image courtesy of Pax International