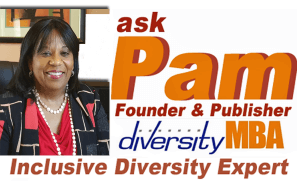 Diversity MBA has put together a leadership conference that encourages participants to bring it, share it, discover it, challenge it and embrace it.
We want you to have conversations and dialogue that will push you to action — to change whatever behavior you need to in order to propel you into the next chapter and/or opportunity of your life.
We have invited experts and published authors in their field to lead the dialogue on such topics as: the science of how decisions are made; how to leverage different styles of communication; strategies to build your legacy brand; and how to maximize working with people that are fundamentally different.
Be there if you want to learn how they overcame obstacles, or to understand how these leaders saw no crack in the ceiling and just broke through.
And, finally, we dare to entertain bold conversations about efficacy – what that means and how this behavior shows up in the workplace. We have assembled an impressive panel of senior leadership – men and women across industries and disciplines. My expectation is that participants in these sessions will dig deep and be honest with themselves and there will be an authentic sharing of experiences.
When I think of leadership the greatest learning is from one another. We must have an open mind to accept and trust inclusion as defined by each person. The thing is, we are just trying to do more than get along; we want to thrive in our lives and in our workplace.
I invite you to join us at the Diversity MBA National Business Leaders Conference and be one of the many voices For more information visit www.diversitymbamagazine.com