Shaping Tomorrow's Workplace Diversity Into Today's Reality
The Medici Effect
In the book "The Medici Effect," author Frans Johansson discusses how the Medici family, an Italian banking family that rose to power in the 14th century, sponsored a plethora of artists across the European continent, including Michelangelo and Leonardo Da Vinci, to break down the boundaries between different artistic disciplines and cultures through a method that ignited the Renaissance. Simply put: The Medici Effect is a phenomenon of innovation created as a result of extreme diversity, where innovation occurs at the "intersection" – the place that ideas from different industries and cultures collide.
Today, global consumer research leader Nielsen is fearlessly igniting its own industry-leading "Medici Effect" by activating groundbreaking, methodically curated initiatives that mobilize diverse talent and influences from different fields, disciplines and cultures. Paramount to Nielsen's approach has been a companywide commitment to cultivating a pipeline of diverse talent that goes well beyond the empirical. At Nielsen, diversity and inclusion are rooted in identifying, nurturing and elevating talent that embodies diversity in experience, skill, culture and thought. Nielsen's industry leadership in diversity through these touch points has garnered numerous awards and accolades including:
"Forbes'," Inaugural List of America's Best Employers For Diversity "DiversityInc's," Top 50 Companies for Diversity"
HRC (Human Rights Campaign) 100 score on the Corporate Equality Index for fifth consecutive year
"Fortune's," Great Places To Work List (U.S. and Turkey)
United States Business Leadership Net work Best Place To Work for Disability Inclusion
"Working Mother & AVTAR," Best Companies for Women in India, for three consecutive years
Most recently, Nielsen was ranked No. 1 in Best Places for Women and Diverse Managers to Work by "Diversity MBA" magazine. Gracing this issue's cover, in addition to Nielsen's Chief Diversity Officer Angela Talton, are business unit leaders who also serve as champions for diversity within the organization: Karthik Rao, president, Nielsen Portfolio; Megan Clarken, president, Watch; and John Tavolieri, chief technology and operations officer and president, U.S. FMCG & Retail.
This most recent industry distinction reflects the culmination of a brilliantly designed diversity and inclusion strategy and is indeed cause for recognition. However, while Nielsen views D&I as a global business imperative, management marks its greatest achievement as the 44,000 employees in 217 offices across more than 100 countries. Each of Nielsen's associates contributes to the company's D&I strategy and shares in its success across borders, time zones and cultures. Nielsen associates represent a common thread and vision, yielding an indelible imprint that is the "Nielsen Effect."
The Inclusion Corporate Challenge
With the current news cycle, we are barraged by concerns about the lack of diversity and inclusivity in the workplace. Nielsen has taken significant strides to redefine diversity and inclusion, literally crafting what these words mean for its global workforce. The best practices that have come from various programs and initiatives, both domestically and internationally, have helped other companies define how they approach diversity, too. Embracing this "corporate challenge," Nielsen is changing the landscape of diversity and inclusion, while acutely positioning itself as a global measurement and data analytics company poised to meet the demands of a 2st century diverse workforce and consumer population.
D&I DNA: The Inclusion Infusion
Like People, businesses possess certain attributes and aspects of "corporate culture" that are unique to each individual organization. Nielsen's commitment to workforce diversity is paramount to its corporate mission, and it actively infuses D&I into its most basic attributes, or its "DNA." To that end, the company states its approach as simply: Infuse diversity and inclusion into everything we do. The inclusion of diverse ideas, experiences, backgrounds and cultural nuances manifests in its people and the innovative solutions it consistently crafts for clients.
Nielsen's industry-leading D&I strategic focus is evidenced by the diversity of its workforce. According to Nielsen's 2017 D&I report, the company outpaces other multinational companies in terms of gender diversity. Additionally, in the U.S., Nielsen's racial/ethnic diversity has been steadily rising for the past several years. As the global population becomes more diverse, the diversity of the company's ranks will only grow in importance. That's because, in order to continue to provide the most complete and trusted view available of consumers and markets worldwide, Nielsen's associates must reflect the diversity in the communities where it does business. Chief Diversity Officer Talton takes this one step further, "We not only want associates to have a seat at the table, we want them to have a voice at the table and ensure their voices are heard." Valuing diverse voices is paramount to Nielsen's corporate culture and truly reflective of aligning that culture with the overall business of providing consumer insights to clients. Talton states, "In an effort to help our clients understand our multi-year, integrated brand campaign, "The Science
Behind What's Next," we look to our employees to provide valuable insights about consumer behavior that only a diverse workforce can accurately and authentically reveal
and communicate."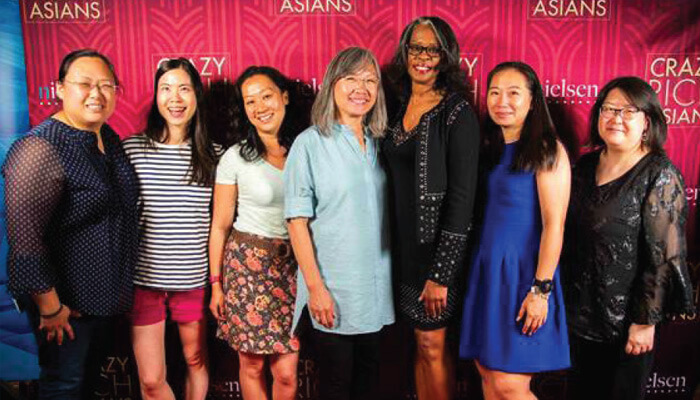 Importance of Innovation Through D&I
Nielsen sits at an important intersection: As the leading provider of insights on consumer behavior in an increasingly diverse consumer landscape and as a leading workforce destination for diverse talent. This nexus begs the question: Does a measurement company play a role in this cultural conversation and shift? Megan Clarken, president of Watch at Nielsen, believes the answer to that question is an emphatic, "Yes."
"At its core, audience measurement is about reflecting the way real people live their lives, and the fact of the matter is that the consumer landscape continues to become exponentially more diverse," says Clarken. "Audiences are choosing content that authentically resonates with them, which is proving to be the catalyst for unparalleled onscreen – and behind the screen – diversity. It is, therefore, critical that we get D&I right in our organization, both for our ability to capture the consumer-level data that our business is predicated upon, and to help our clients and stakeholders leverage these insights to build strategy for their own businesses. At Nielsen, it's more than a model, it's a mantra."
Nielsen's culture of innovation in consumer research is anchored by a strong belief in the necessity of acknowledging D&I of the marketplace, which must be accurately captured within the D&I of the company. "Today's marketplace is a cross-platform and multidisciplinary environment where consumers engage across a variety of touch points reflecting their diverse interests, cultures and experiences," said Karthik Rao, president, Nielsen Portfolio. "Nielsen understands the business of diverse audiences and their preferences. Raising our corporate accountabilities to a higher standard with regards to D&I is not just good business, it's smart business."
Inclusion is at the core of every operational and cultural touch point for Nielsen. D&I is authentically embedded in its corporate DNA – to maximize holistic returns for the greater good of all. "We pride ourselves on delivering data solutions that correspond with the habits and purchasing practices of a tremendously diverse marketplace," said John Tavolieri, chief technology and operations officer, and president, U.S. FMCG & Retail. "Our approach to meeting high media and retail industry demands is fortified by our global commitment to D&I. We do this because it is the right thing to do to foster greater retention and advancement of our diverse talent. When we provide an inclusive environment where diversity can manifest itself, our clients and our business benefit."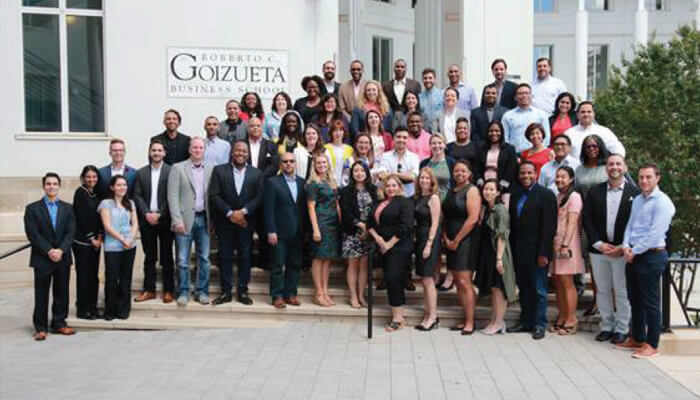 Pioneering Programs to Drive Innovation Through Inclusion
This cultural mindset via the "Nielsen Effect" is reinforced through several landmark D&I programs, one of which is the Nielsen Diverse Intelligence Series (DIS) Reports. This thought leadership series has become a pivotal industry resource, serving as a roadmap for client and industry partners to help brands better understand and reach diverse customers. Highlights of this series include three published reports on women of Asian American, Hispanic and African American cultures. Each report shares unique stories and insights on how multicultural women continue to influence mainstream culture as early digital adopters, while making groundbreaking strides in education and entrepreneurship. The DIS has expanded to include reports on veteran consumers, LGBTQ consumers and differently abled consumers.
Another hallmark D&I strategy at Nielsen is to identify and highlight diverse talent through the structure and engagement of its Employee Resource Groups (ERGs). These employee-led volunteer groups seek to create open forums for idea exchange, through summits and events, to strengthen the link between Nielsen, its clients and diverse communities. They also serve as a training ground to develop talent through workshops, seminars and experiential learning on such topics as project management, budgeting and meeting facilitation. Additionally, these ERGs help Nielsen form essential bonds with its clients by co-hosting events, sharing best practices and showcasing data on diverse communities. There are 163 ERG chapters and 11,000 members worldwide with a touch point of engagement across a range of diverse groups:
Hispanic Organization of Leaders in Action (HOLA)
Sustaining Active Black Leadership and
Empowerment (SABLE)
Lesbian, Gay, Bisexual, Transgender, Queer and
Allies (PRIDE)
Asian Affinity Link (AAL)
Abled and Disabled Employees Partnering
Together (ADEPT)
Women in Nielsen (WIN)
Support & Employee Resources for Veterans (SERV)
Nielsen Generation (N-GEN) – created in China
Multinational Organization Supporting An Inclusive
Culture (MOSAIC) – created in the U.K.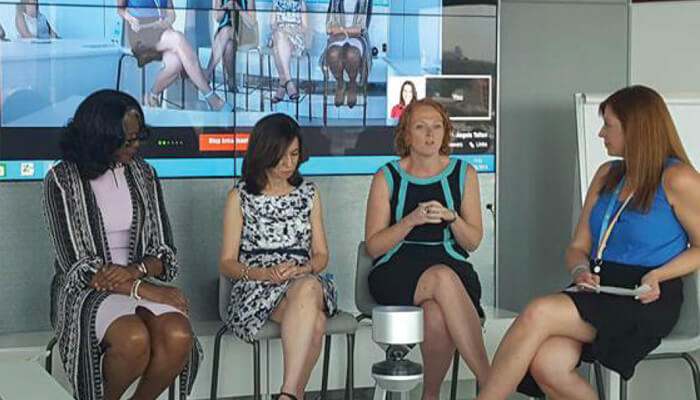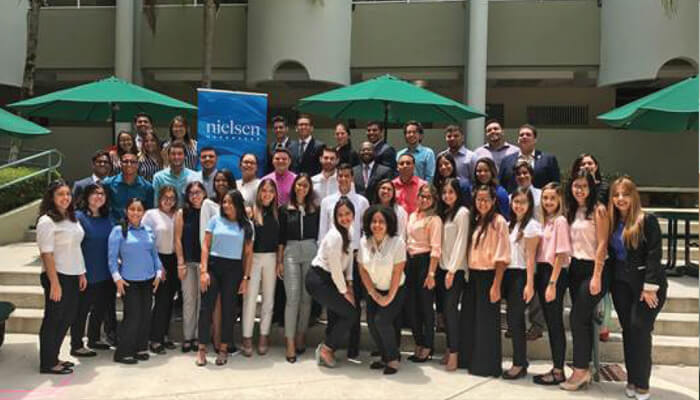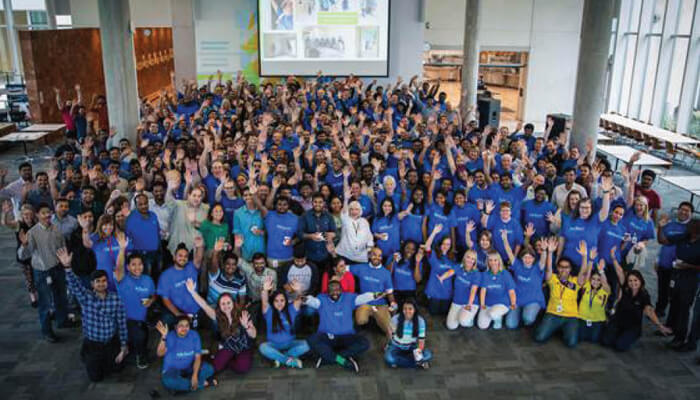 Nielsen also advances diverse talent through its Diverse
Leadership Network (DLN). Talton explains, "The DLN is a
15-month mini-MBA. In addition to curriculum, workshops
and experiential learning, participants gain visibility,
access and opportunity through their exposure to senior
leadership and engagement with a coach, who is assigned to
each participant for the program's duration." The program
has participation goals by race and gender, with 25 percent
representation from African American, Hispanic, Asian and
White associates and at least 50 percent female participation.
To date, 93 percent of DLN participants have been promoted
and 40 percent have reached the VP level. Additionally, the
DLN participant retention rate is 30 percent higher than the
equivalent top-performing cohort of associates.
Nielsen ensures every associate feels connected to its inclusive
culture by listening to feedback and effecting change
whenever possible. For instance, in 2014 before marriage
equality was a reality in the U.S., Nielsen stood in support
alongside its LGBT+ associates by offering partner benefits to
associates in relationships strictly on the honor system.
Nielsen also uses its own data to make internal improvements. Utilizing its diversity scorecards and seeing a retention concern – in another example of heeding the counsel of its associates – Nielsen C-level executives including Angela Talton sponsored a two-day professional development forum in 2016 for Black associates. It was the first event of its kind in the company's history. Nielsen leadership followed suit with a Hispanic Employee Forum in 2017, providing a leadership development opportunity to another subset of employees. Retention rates have improved – 12 percent for African American associates and 18 percent for Hispanic associates as a result. An Asian Employee Forum is currently being planned.
The profundity of Nielsen's D&I initiatives and their subsequent recognitions reflect the "all-in" approach. The company is capturing consumer trends of tomorrow, while transforming the adaptive practices of innovation through industry diversity today. The aforementioned dream team of executives at Nielsen is revolutionizing the "Medici Effect" by serving as chief architects for building a sophisticated idea of what's next in a rapidly diversifying global population for their clients – better known as "The Nielsen Effect."