When Elyse Stoltz Dickerson, CEO and co-founder of EOSERA, Inc., a Fort Worth, Texas biotechnology company specializing in ear care products, found herself out of her big pharma job in 2015, she was devastated. Instead of sulking, she turned around and launched her own company the very same year. (Insert slow clap.) "There was no time to stop and drown in your sorrows," said Elyse. "You just pick yourself up [and say] okay, how am I going to fix this?" Elyse and her co-founder, Joe Griffin, (whom also lost his big pharma job at the same company, that same year) met with doctors in multiple fields to see what unmet healthcare need was present in the market. Once Elyse and Joe found it was, surprisingly, earwax impaction, they developed their first product, EARWAX MD®, that dissolves earwax in as quickly as fifteen minutes. It turns out, about 10% of children, 5% of healthy adults, and up to 57% of elderly patients are affected by earwax impaction.
The company has seen tremendous growth since the launch of their first product in 2017. They developed a total of 8 products dealing with everyday ear care issues, such as earwax impaction, ear itch, routine ear hygiene, and ear pain. The line also includes kids' ear care products.

Due to their growth, Eosera also hired new talent. Their products are sold in Rite Aid and CVS stores nationwide, as well as on Amazon. Within 12 months of being in CVS stores, EARWAX MD® grew the ear category by more than 35%. "We're continuing to innovate our technology, we're continuing to expand into more retailers, and we're continuing to grow our team," says Elyse.
Determined to do things differently than the big corporations, Elyse practices Conscious Capitalism, a philosophy with a central principle that companies should do more for the economy, the environment, investors, customers, and employees than make money. "Conscious Capitalism is having a higher purpose over profits. Our higher purpose, we decided, was people," Elyse says. Valuing people over profits, Eosera's mission is simple: healing humans. Elyse and Joe felt as though "big corporations had lost their way, and they were only focused on money," Elyse continues, "they lost sight of the customer and the employees. We wanted to create a company that put people first and money second. That was really the foundation of starting Eosera," explains Elyse. Being in the big pharma business for over a decade, Elyse is well aware of these shortcomings in big corporations. Learning from these big corporation's mistakes led to a thriving business and a welcoming work environment.
So, out of what seems like the biggest failures, like losing a job, comes some of the greatest accomplishments, like starting a successful company that helps boost people's quality of life. Resilience is a word Elyse uses to describe her journey. Even when things inevitably go wrong, there's always a way out, she explains. "You can always find your way out of a problem. When something bad happens, we just figure out how to move forward. You don't stop. You can't stop," Elyse says. Overcoming the challenge of losing her job and the small challenges that business ownership brings, Elyse finds that failure, when learned from, breeds success. Owning a business requires failure, and failure requires bravery.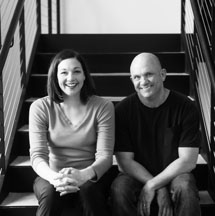 Elyse speaks of how fear can stop even the greatest entrepreneurs from realizing their dream of business ownership, and that bravery and courage is the only way through. Elyse notes that "stepping through the fear" is key to a successful business "because everybody's got [fear]." Elyse moves on to advise small business owners: "Find good mentors and advisors. Trust them and trust yourself." Elyse is set out to humanize business and the fear of failure that it can bring. "I feel like as a society, everybody puts forth all the perfect things on social media and in the media. We forget that everybody has imperfections. As humans, we're imperfect. So, I feel like part of the value I can bring is sharing those failures, imperfections, and struggles to make it seem a little less scary to step out on your own."
Grit, bravery, and resilience were a part of Elyse's vocabulary from day one. "I have a passion for breaking barriers," Elyse states, "My entire career, I have seen how women are held back, how they are paid less than their male counterparts, how they are skipped over for promotions—for whatever reason, they are sidelined because they have kids at home," she continues, "so to come out and run a growing, successful company and show that a mom, wife, friend, and daughter can do that… I feel like it can help inspire other women to reach for new heights, and sort of break down the stigma of women in business." Elyse is a lifelong athlete, having competed in marathons, triathlons, and Ironmans. She resides in Fort Worth, Texas with her husband and two children. In her spare time, she mentors female entrepreneurs and is a strong advocate for women in business.