Program Overview
The 13th Annual Elite Business Leaders Conference & Awards Gala is based on the core of what Diversity MBA represents. DMBA recognizes the 50 Out Front Companies for Best Places to Work for Women and Diverse Managers; and we recognize the Top 100 emerging and executive leaders who have achieved excellence in the workplace, community and higher education.  We are committed to celebrating all dimensions of diversity which includes everyone, as this is our intention for the celebration of the work we do. Connecting leaders, recognizing achievement and challenging change is our goal for the conference experience.
Pamela A. McElvane, CEO & Publisher, Diversity MBA
We also recognize outstanding leaders that work year- round as advocates for the diversity & inclusion journey.  These awards are:
Impact Awards
Diversity Champion Award
Hall of Fame
Program Infused with the BID Talks
The uniqueness of this conference it brings business leaders together in a format that allows them to exchange ideas on how inclusive diversity is a part of the business function. This conference provides the forum to introduce new ways of thinking and bridge gaps that exists between business, inclusion and diversity.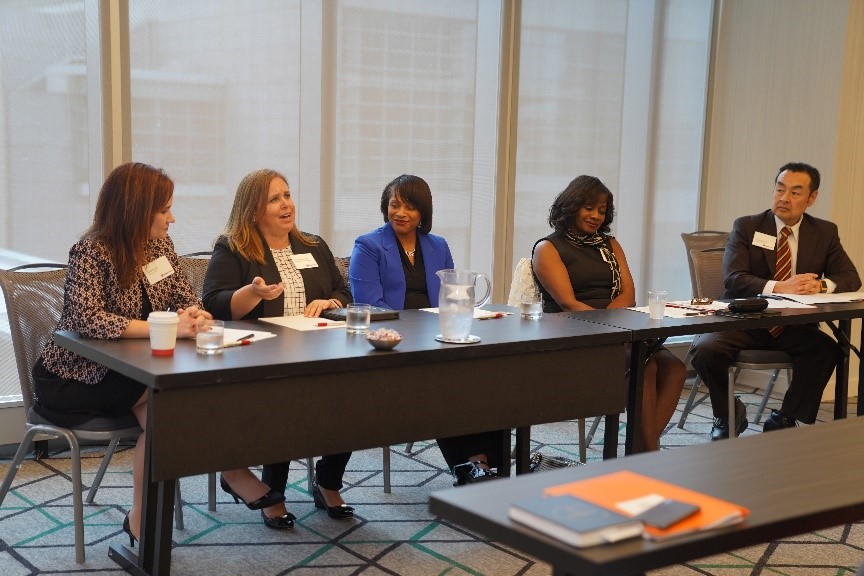 Diversity MBA introduced the BID TALKS- Business with Inclusive Diversity Talks, last year (2018). We changed the format and platform of how information is delivered at the conference. Our intent is to bring issues forward without power points and engage the attendees to participate in solution- oriented thinking. We are boldly suggesting that when we bring groups together; we want them to step out of their comfort zone; and not just hear the message, but to understand the issue and be able to collaborate and communicate to achieve solutions.  We encourage conflict and disagreement, because we know tension leveraged along with creative energy, drives innovation.
Program Structure: Open Platform for Engagement
We are blending the business conversation with the inclusive diversity imperative at our industry round-table hot topics.  Both business leaders and diversity practitioners are bringing the conversations forward challenging new perspectives to drive change.
HOT TOPICS:
Healthcare roundtable hot topic: the equity imperative
Technology roundtable hot topic: what's up with Silicon Valley and diversity
Sports roundtable hot topic: diversity: athletes don't count
Legal roundtable hot topic: filling the diverse talent gap
Financial Services roundtable hot topic: dealing with the wealth divide and pipeline
Consumer Services roundtable hot topic: level the playing field with ecommerce
Best Practice roundtables hot topic: Hear from the DMBA Top 10 Companies